Richard Zven Kruspe - Vocals, composition, guitar
Born on 24 June 1967
56 years old
Introducing Richard in a few lines is not an easy thing. He is one of the two guitarists of the German band Rammstein, and one of its founding members. Richard is also the instigator and leader of Emigrate: he founded it to canalize his extra creativity.
Before being part of Rammstein (since 1994) and Emigrate (since 2006), Richard was guitarist for Orgasm Death Gimmicks. He defines himself as a fucking perfectionist and tends to suppress the creativity of others.
Besides being the guitarist of Emigrate, Richard wrote the lyrics (with his ex-wife Caron Bernstein for the first album), sings and co-produces songs, overseen by Jacob Hellner.
Born on 26 October 1980
43 years old
Joe Letz is an energetic drummer, best known for his work with Combichrist, an EBM and industrial metal band. Richard met Joe in the mid-2000s and naturally recommended Combichrist to Rammstein, who were looking for a support for their LIFAD tour in 2009 and 2010.
Besides being a drummer, Joe is also a DJ and even mixed as support of Rammstein for their Made In Germany tour. He also sells clothing under the brand FUXLEEP.
Joe Letz is not a full member of Emigrate. Friend with Richard, he has an advisory role and gives his opinion on the songs. However, he plays drums in most of the band's videos, because Richard loves his drumming style.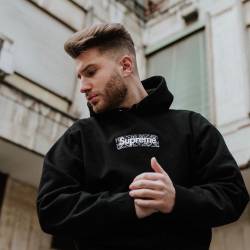 Andrea is an Italian DJ and producer.
Richard got to know Andrea through his daughter, Khira Li Lindemann, who is friend with him. Because Emigrate's songs often contain keyboard music, Richard invited Andrea to be part of the band.
Back to top