The Persistence Of Memory
Album The Persistence Of Memory
12 nov. 2021
1.

Rage

4:19

2.

Always On My Mind (feat. Till Lindemann)

3:30

3.

Freeze My Mind

3:20

4.

I'm Still Alive

3:01

5.

Come Over

3:47

6.

You Can't Run Away

4:10

7.

Hypothetical

3:52

8.

Blood Stained Wedding

4:56

9.

I Will Let You Go

3:28
« The Persistence Of Memory » est le quatrième album d'Emigrate, sorti le 5 novembre 2021.
Le disque contient 9 titres, dont les compositions datent des vingts années précédant sa sortie. Ces chansons ont été écrites à un certain moment de ma vie, a expliqué Richard, mais les idées n'ont pas de date d'expiration. Les titres ont été retravaillés et modernisés. J'espère que vous apprendrez à mieux me connaître après l'avoir écouté, a-t-il ajouté. Dans une interview à Musix.de, Richard explique même que son idée initiale était de publier un coffret vinyle des trois premiers albums, avec un LP bonus contenant les neuf chansons. Cela explique probablement pourquoi l'album ne contient pas 11 chansons, comme c'est le cas traditionnellement chez Emigrate et Rammstein.
Parmi les 9 pistes figure un duo avec Till Lindemann, Always On My Mind.
Pour l'anecdote, le nom « La Persistance de la mémoire » est inspiré du célèbre tableau de Dali (plus connu du grand public sous le nom « Les Montres molles »).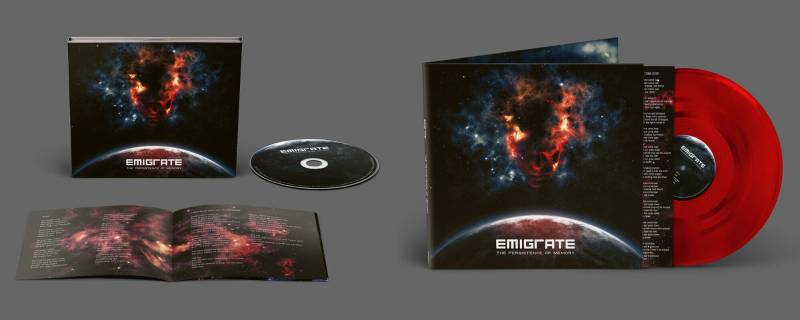 Édition standard

CD, digipack, livret

Édition LP rouge (exclusivité RammsteinShop)

Vinyle rouge, pochette ouvrante cartonnée, livret

Édition LP

Vinyle noire, pochette ouvrante cartonnée, livret
Singles extraits de l'album
Music by Richard Z. Kruspe.
Lyrics by Richard Z. Kruspe, Terrence Matlin, Caron Bernstein (Freeze My Mind)
Except "Always On My Mind" - Music and lyrics by Mark James, Wayne Thompson, John Christopher Jr.
Produced by RZK and Sky Van Hoff.
Drums and guitars editing by Sky Van Hoff.
Drums by Mikko Siren, Jens Dreesen (Rage, Come Over), Henka Johansson (Freeze My Mind).
Bass by Sky Van Hoff, Arnaud Giroux, Ufo Walter (Runaway).
Additional percussion on Runaway by Leon Pfeiffer.
Vocal performance by Till Lindemann on Always On My Mind.
Backing vocals by Maxime Alaska Kruspe Bossieux, Margaux Bossieux and by Ghøstkid, Matthias Schmitt, Marcel Caccamese on Rage.

Vocal recording and producing by Sky Van Hoff and Olsen Involtini.
Drum recording at Funkhaus Studio Berlin and Sky Van Hoff Studios.
Drum engineering by Olsen Involtini.
Vocals, guitars, basses recorded at Studio Engine 55 Berlin.
Mixed by Sky Van Hoff at Studio Engine 55 Berlin.
Mastered by Jens Dreesen.

Published by Universal Music Publishing
Except "Always On My Mind" published by Screen Gems-EMI Music Inc. / Budde songs Inc.

Artwork by Arnaud Giroux.

Management by Sven Kaselow and Anne Rebenstorff.

© & © 2021 Emigrate Production Gmbh. Distributed by Sony Music Entertainment.
All trademarks and logos are protected. Made in EU. BIEM/GEMA. 19439938352. LC 97430. All Rights Reserved.
Retour en haut de page